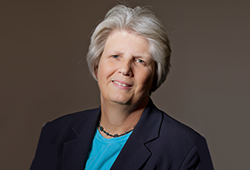 When Arkansas Tech University faculty member Dr. Rebecca Callaway wanted to honor her parents by establishing a scholarship, she knew what would be most helpful to students. Dr. Callaway knew that often preservice teachers in their internship semester struggle financially with additional and often unexpected expenses. Internship is full time with little to no opportunity to pursue employment to offset expenses.

As a result, Dr. Callaway started the Arthur P. and Daisy W. Callaway Scholarship as a means of providing financial assistance for degree completion to traditional undergraduate students who graduated from an Arkansas high school and want to become teachers.

According to the scholarship criteria, preference is given to a first-generation college student. The recipient must be a senior classification student seeking teacher certification in middle or secondary education who is completing his or her internship during the semester of the award. Recipients must demonstrate financial need, have a minimum cumulative grade point average of 3.0 and submit two letters of recommendation from professionals within the student's major content area. The $600 scholarship is awarded both in the spring and fall semesters.

Callaway is an associate professor of Instructional Technology in the Curriculum and Instruction Department at Arkansas Tech. She has served on the Arkansas Tech faculty since 2006.

Amanda Trammell, a senior from Valley Springs, was the first recipient of the Arthur P. and Daisy W. Callaway Scholarship in spring 2015.

At the time Trammell received the scholarship, she said her goal was to earn a teaching position in her native north Arkansas.

With the help of the scholarship, she did just that by becoming the business education teacher at Berryville High School.

Learn more about donating toward or applying for scholarships through the Arkansas Tech University Foundation.