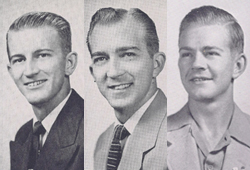 The history of Arkansas Tech University includes several families that have been loyal to the institution over a span of multiple generations. In many cases, their contributions have helped build Arkansas Tech from its humble beginnings to its current status as one of the three largest universities in the state.

The Adams family, originally of Warren, is certainly one such family.

The story began in 1946 when Ross Adams graduated from Warren High School as valedictorian. His younger brother, Travis, recalls two main reasons why Ross chose Arkansas Tech.

"First, he knew Dean Alfred Crabaugh was a great journalism teacher," said Travis. "Second, Tech had an old letter press and offered a room and board scholarship to the student who could operate it to print college stationery."

Ross served as a cheerleader, editor of the Arka Tech newspaper and director of public information during his time as a Tech student. He went on to earn bachelor and master degrees in journalism from the University of Missouri.

At around the same time Ross departed for Columbia, the second brother in the line arrived at Arkansas Tech. Lewis Adams studied engineering and was business manager for the Arka Tech during his first stint at the college. After a few years away, he returned to study math. Lewis earned a place on the Dean's List and graduated in 1955.

Lewis earned his degree on the same day that his younger brother, Travis Adams, walked in commencement ceremonies at Arkansas Tech. Travis was the 1951 valedictorian at Warren High School and enrolled at Tech with a job as printer at the Russellville Tribune to pay his way.

When Travis was elected as president of the student body during his sophomore year, it provided additional financial assistance to make his education possible.

"The position paid for board, and I did odd jobs to make up the difference," said Travis. "I became the student director of sports information for my junior and senior years. This involved keeping statistics for football, basketball and baseball as well as reporting these to the (Arkansas Intercollegiate Conference) office while also writing regular articles for the Arkansas Gazette and Arkansas Democrat in Little Rock and the Southwest American in Fort Smith. I traveled to all football and basketball games as well as some baseball games. I was paid for calling in scores to the Associated Press and United Press International. I also received 15 cents an inch for articles I wrote for the Russellville Courier."

Dean Adams, the younger sister of the Adams brothers, enrolled at Tech in 1956 and attended for one year before getting married.

The Adams brothers have been consistent financial donors to support the mission of Arkansas Tech. Lewis' son and oldest daughter attended Tech for one year. Dean's daughter attended one summer, and Travis' son and daughter are both graduates of Tech in accounting.

Travis returned to Tech in 1966 as assistant dean and assistant professor of history. He became associate vice president for academic affairs in 1970, and then served as associate professor of history and vice president for student affairs from 1973-93. He was executive assistant to President Robert C. Brown from that point until he retired in November 1997 after 31 years and 3 months of service to Tech.