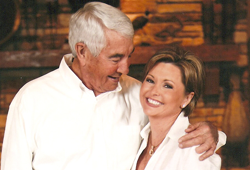 James and Laurie Bibler married in 1986. Since then, the Biblers have contributed extensively to several great legacies: Bibler Brothers Lumber Co.; the world of hunting; and Arkansas Tech University.

In 1909, David Bibler, James' grandfather, started a sawmill in a small community then known as Lee Mountain. More than 100 years later, Bibler Brothers Lumber Co. is well known for being one of the most technologically advanced mills in the United States, and having an outstanding safety record. In addition to having a major influence on the region's timber and lumber business, their mill also contributed to the growth of the poultry industry in Arkansas when it was discovered that using shavings/sawdust from their milling process resulted in healthier chickens.

James and Laurie retired as owners of Bibler Brothers Lumber Co. several years ago with Terry Freeman assuming the role of president. But, as many retirees find, they are busier than ever.

James' passion for hunting began in his early teen years, along with his strong work ethic and his career in the family mills and raising cattle. But, in his retirement, he has traveled the world hunting and promoting the conservation of exotic animals. His wife, Laurie, has participated in many of the expeditions as well. One of the most extensive privately owned collections in the world is displayed in their guest house.

The Biblers are also creating another legacy through their passionate support of Arkansas Tech University. "The progress made under Dr. Brown has been unbelievable. The whole region has benefitted so much from Arkansas Tech. When we see the Tech campus, it puts smiles on our faces. Tech provides an opportunity for so many to give themselves a better life," says Laurie. Like other Heritage Society members, James and Laurie have also included Tech in their estate plan. Their legacy plan provides for endowing a scholarship and establishing a fund for the "greatest need of the university."