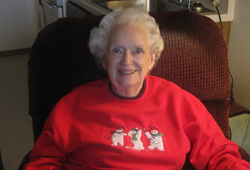 Jeanice Falls was born in Russellville in 1919. Loved and respected by everyone who knows her, at 96, Falls is known for being a very optimistic person with a love for entertaining, Tech women's basketball, travel, the Class of 1938, family, her church and Tech students.

Many Tech sports fans know her as the "Original and No. 1 Golden Suns Fan." Falls began attending women's basketball games with Juanita Young when the team first moved from the AAU and came under the direction of the Arkansas Tech Athletic Department in 1977. By the late 1980's, at the beginning of Coach Joe Foley's 16 year tenure, Ms. Falls, the Youngs and other close friends and family, faithfully cheered for the Golden Suns at every game, even the tournaments. For more than 20 years, she has hosted a Golden Suns Brunch with the help of the Young Family.

From the late 1940's, Falls and a group of close friends began coordinating the Class of 1938 Reunion, the longest running college reunion in U.S. history. The annual reunion was a highlight of Tech Homecoming for generations of '38 descendants. For many years, the Class of 1938 Brunch was held at Falls' childhood home on Denver Street. "Our class was close and we all knew the sacrifices made for our educations. It was important for us to help this generation," said Falls.

Falls worked at the Telephone Company where she was Chief Operator and Marketing Director for 40 years and retired in 1981. After retiring, she volunteered at St. Mary's Hospital for 26 years and served two terms as the president of the Arkansas Hospital Auxiliary Association. Also an avid traveler, she has been on numerous cruises. She traveled with the Tech Travel Program on the Baltic Cruise and saw where the Berlin Wall once stood.

Falls enjoys spending time with numerous friends and her four nieces, Nadine, Rosemary, Royann, Judy and their families. Appropriately, Falls' birthday is near Mother's Day. She has been like a mother to so many.