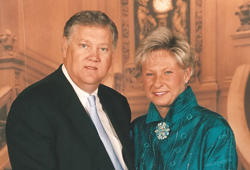 Ben and Terry Rothwell learned about giving from their families and have always made sharing a habit. Even when they had limited financial resources; they still found ways to share with others. Their philosophy is, "It's not the amount, but the thought of giving."

Experiencing the art of giving was a big part of their upbringing. Terry's father owned and operated Pic-N-Tote stores in Fort Smith for years before his passing in 1981. Many of her fondest memories are of her father helping those in need and contributing to the many causes he felt worthy of his time and money. In Ben's case, his family had a farm in Quitman. There, Ben witnessed many instances of family helping family through tough times. "Our families instilled in us the passion and desire to help others- and to support our schools and churches. Now, it is our turn," said Ben.

Ben learned valuable lessons about organization and discipline as a teenager participating in Future Farmers of America (FFA); and he believes strongly in the value of those programs. Together, the Rothwells put their ideals, education and skills to work building a very successful business providing specialized consulting services for banks across the country.

Ben (Class of 1975) and Terry (Class of 1974, former member of the ATU Board of Trustees and current member of the ATU Housing Board) have been strong supporters of Tech for many years. They appreciate knowing that they can make a difference for Tech students, just as others gave to assist them many years ago. "We want to support every student at Arkansas Tech who is aspiring to improve not just their own life but the lives of those who live in their respective families and communities."