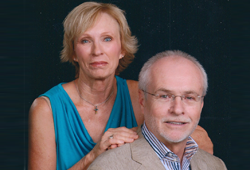 The Frank Griffin Oil Company (FGO) incorporated in 1958 and is one of the oldest locally-owned companies in Russellville. Gordon (FGO's CEO) and Decie (Blackwell) Shirron have worked for the family business since 1985 and became the sole owners in 2009.

The Shirrons have expanded on the legacy established by Decie's grandfather, Frank Griffin, and later maintained by her father, Bill Blackwell. Their motto was, "We don't have to be the biggest to have the best customer service." Today, the oil business and service stations Frank Griffin began in the 1950's have evolved into numerous convenience stores and other services for the River Valley: 7 PDQ's; 3 Darrell's Other Markets; Fat Daddy's Bar B Q and Blue Chip Ice. In the fall of 2013, they will also open a Fat Daddy's restaurant in Russellville's historic downtown district. The new restaurant will serve their signature barbeque, but will also offer other items. Soon, FGO will have approximately 180 employees.

"We have wonderful customers and have been blessed with employees and interns who are a 'cut-above.' Arkansas Tech has been our best source for recruiting excellent, talented individuals- over half of our management team have a degree from there. We try to empower our managers; and we want every employee to feel some ownership in what goes on. Arkansas Tech's growth and commitment to quality is one of our region's biggest assets and has been a major contributor to our success," say the Shirrons.

Through Frank Griffin Oil, Co., Inc., they generously support Arkansas Tech in many ways, including being major supporters of the Green and Gold Club Fund and the athletics programs. They are also members of the Century Forward Circle which was recently recognized at a public dedication at Centennial Plaza in front of Thone Stadium.

The Shirrons are active members of the First United Methodist Church in Russellville where Decie has participated in the Mexico Mission Trip for 5 years. They enjoy spending time with their family and especially their two grandchildren, Ella and Brody.