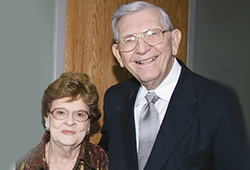 We all need partners to achieve our goals in life.

Deward "Dop" Dopson and Anne Lyttle Dopson were partners in marriage, raising children and grandchildren, business and life for 64 years. It was a love story that began at Arkansas Tech and ended when they passed away just two days apart in June 2015.

In 1947, Deward Dopson was among the first basketball recruits that head coach Sam Hindsman brought to Arkansas Tech, and he was a member of Arkansas Intercollegiate Conference championship teams in 1949, 1950 and 1951, the beginning of seven consecutive conference basketball titles for the Wonder Boys. He still holds Arkansas Tech men's basketball records for points, field goals, and field goals attempted in a game. Anne, an English major, was one of his biggest fans.

Deward was selected in the 1951 National Basketball Association draft by the Minneapolis Lakers and also played professionally with the Peoria Caterpillars before beginning his coaching career at the high schools in Manila and Harrison.

In 1966, Dop considered it an honor when he was chosen to succeed Hindsman as head men's basketball coach at Arkansas Tech, and Anne was a Russellville native so Tech was home to her. Coach Dopson guided the Wonder Boys to a record of 103-89 from 1966-73. He coached Arkansas Tech to a berth in the NAIA National Tournament in 1970, their only appearance in that event between 1963 and 1995. Through the years, Dop and Anne maintained a close relationship with former players. To show their mutual admiration for the Dopsons, some of those players established the Deward and Anne Dopson Scholarship in the Arkansas Tech University Foundation.

In 1982, Deward was inducted into the Arkansas Sports Hall of Fame, and in 1991, the Arkansas Tech Hall of Distinction.

In 1981, following his coaching career, Deward went on to a successful career in business. He and Anne founded National Paramed and retired in 1995. Deward passed away on June 23, 2015, at the age of 85. Anne died two days later at the age of 82.

A university also needs partners to succeed, and the Dopsons were loyal and supportive partners of Arkansas Tech. They once expressed that, while honors are prized, giving back to Tech is what fed their souls. They hoped that each student they helped would grow in their love for Tech, and the students would support Arkansas Tech both financially and through their loyalty.

They were at the forefront of such campaigns as Return to Glory and the construction of Hindsman Tower. Equally impactful were the gifts they made in support of a variety of scholarships at Arkansas Tech and the memorable reunions they hosted as a means of bringing players from both the Hindsman and Dopson eras back to campus.

Those reunions belong to history now, but the legacy left by Anne and Deward Dopson at Arkansas Tech will go on forever.